The REMAK mobile application is our specialised configuration of the Inthouse application as a platform for mobile control of intelligent houses based on Siemens controllers. It enables basic touch control and monitoring of REMAK VCS control units based on Siemens Climatix controllers using a mobile device (phone or tablet) with Android OS (v. 4.1 or higher) or Apple iOS (v. 12 or higher). Alternatively, it is possible to use a specific application for a PC with Windows 64bit OS (desktop application).
Simplest Control of VCS Control Units and REMAK Air-handling Equipment
The REMAK mobile application – HMI (controller) for VCS control unit as a mobile application – enables basic touch control and monitoring of VCS control units based on using a mobile device (phone or tablet).
It is an optional addition, resp. extension add-on, to the complex/service remote HMI@ WEB interface (in which the AHU/VCS system must be commissioned).
This application can be downloaded free of charge from Google Play or App Store. Using your mobile device search for "Inthouse" in Google Play or App Store and select "Install". When starting the application for the first time, enter the configuration ID you received with your VCS control unit (please make a distinction between lower and upper case letters).
As a specific alternative, there is also an app for Windows 64bit computers with standard computer mouse control and the same functionality as the iOS app (with flexible window size). Download the app here.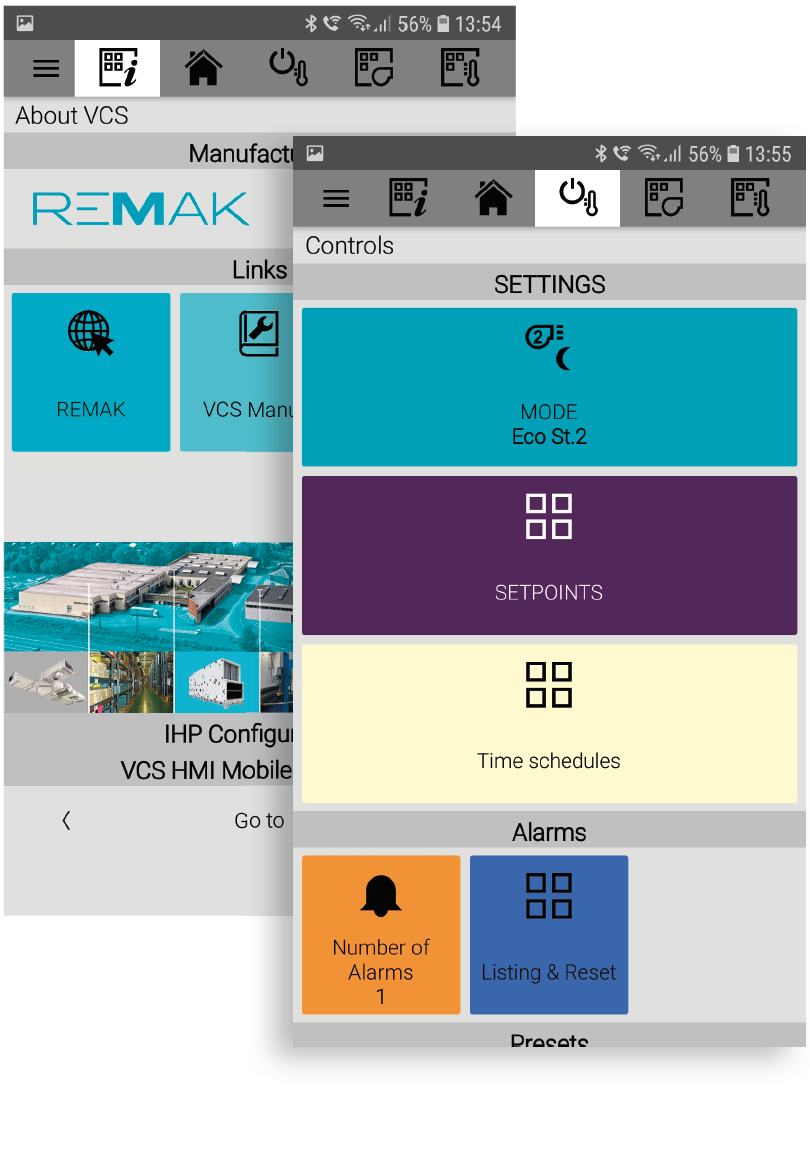 Basic Features
1) Starting/switching off the device
2) Settings:
– Operating mode
– Ventilation output
– Temperature/humidification mode
– Heating/cooling
– Humidity Limit values of the inlet air temperature/humidity
– Fan outputs
 – Weekly time schedule
3) Device operation state monitoring
4) Reset of failures (after removal)
5) Direct access to the service HMI@ WEB interface from an internet browser for detailed parameter settings (control coefficients, etc.)
6) Operating mode and function settings
7) Automatic or manual selection of language versions
8) Possibility to switch between multiple air-handling units (control units)
9) Direct linking to the current on-line manual.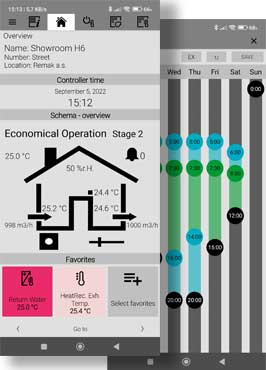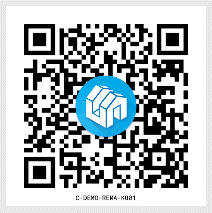 We have prepared a DEMO version for you!
Configuration ID: C-DEMO-REMA-K001
When installing the device, you need to use the "Local connection" option.
IP address: gw.remak.cz
Port: 10202
Password PLC (JSON): SBTAdmin!
Note: The iOS app in the current version (v3.x …) is not fully identical to the Android app (v2.x …). It contains some formal (appearance) differences as well as some functional differences. However, these are minor differences due to the different concepts of Android and iOS operating systems or limitations that will be gradually implemented in future versions, such as setting/viewing specific calendars (days of exceptions to the weekly schedule and days of shutdown) – only tiles without functionality are displayed. These settings have to be done e.g. via HMI @ WEB (direct link in the application menu).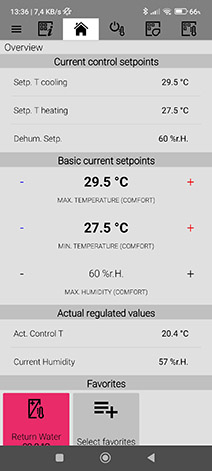 Contact us for more:
(0031)123-Remak